Download Fixing Manual for more information (there are two manuals)
We supply two adjustable fixing kits in our fixing range; both fixing kits are made from a series of ropes and non-adjustable fixings. The rope kits allow you to easily mount and remove your Shade Sail, whilst also providing sufficient tension to be maintained across your Shade Sail.
The two kits available are the vertical fixing kit, for which the tension is arranged vertically down the post to allow the shade to be either erected or removed from ground level with no need for a ladder. The horizontal kits are useful to bridge a gap which is undetermined accurately but falls within 250mm and 3 – 4m. Wall and post anchorage fittings are not included in the kits.
These are suitable for Shade Sails up to approximately 10 sqm, with the longest side being a maximum of 3.5m – 4.0m
HORIZONTAL FIXING KIT KSFX50PL

The horizonal fixing kits are provide an easy method of rigging and remove your Shade Sail. The kit is deconstructed on arrival and is a combination of the fixings listed below.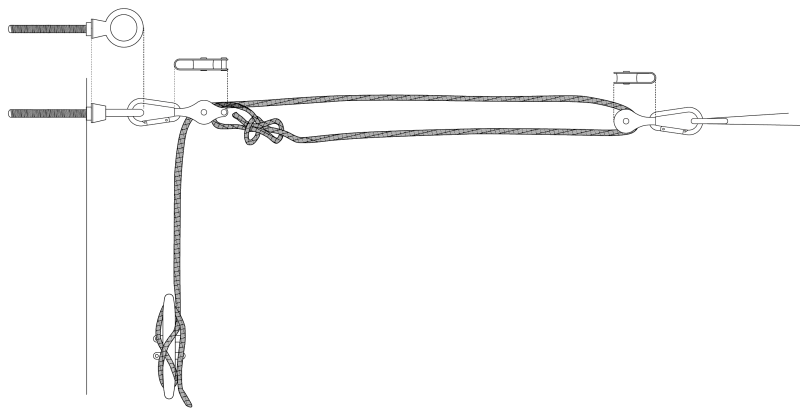 1 x Pulley Block (Plain Block)
KSFXPBT1
1 x Pulley Block (with Beckett)
KSFXPBT2
2 x Carbine Hook
KSFX9060
1 x Cross End Cleat
KSFX414D
1 x Length of braided rope
KSFX5MWW

VERTICAL FIXING KIT KSFX60VPL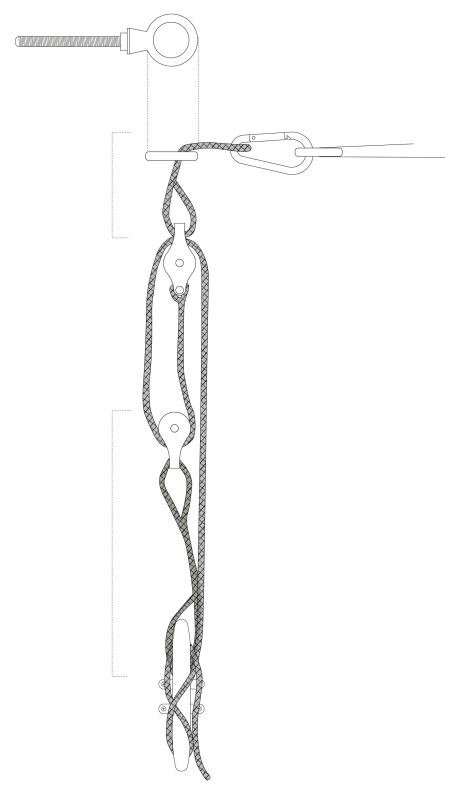 The vertical fixing kits are our more user friendly adjustable rope kit. The kit has 3 spliced pieces of rope, arranged on a pulley system which runs vertically down the post or wall which allows the shade to be tensioned closer to your desired anchorage point. This method is also adjustable and easily erected or removed from ground level.
1 x Pulley Block (Plain Block)
KSFXPBT1
1 x Pulley Block (with Beckett)
KSFXPBT2
1 x Carbine Hook
KSFX9060
1 x Cross End Cleat
KSFX414D
2 x Length of braided rope
KSFX5MWW