Each end of the turnbuckle is threaded in opposite directions so that when you rotate the body of the turnbuckle one way tension will be increased, rotate the other way and tension will be released. A versatile fixing which allows for adjustments in precise increments, there is a large variety of turnbuckles that have fork – fork attachments.
Some key rules of thumb to keep in mind when fixing your turnbuckles:
Work around the Shade Sail winding each turnbuckle a little a t a time until even tension is gained all round.
When the shade is taught and flat wind on the locking nuts up to the barrel, to prevent the tensioner from unwinding.
Re tension again in a week or so after the shade has settled in.
Remember to lubricate the thread to prevent binding!
Adjustable fork to fork turnbuckle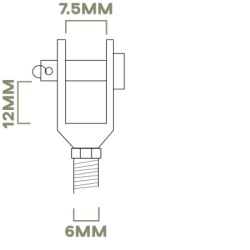 M6 TURNBUCKLE – STANDARD
KSFX61CB
Suitable for indoor Shade Sails and external Shade Sails that are less than 8 sqm
Recommended link allowance = 170mm
M.B.L = 7.7Kn
Measurements L
Fully Tensioned 150mm
Half Tensioned 180mm
Fully Released 210mm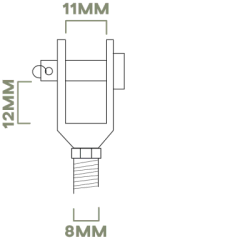 M8 TURNBUCKLE – STANDARD
KSFX81CB
Recommended link allowance = 210mm
M.B.L = 13.9Kn
Measurements L
Fully Tensioned 167mm
Half Tensioned 212mm
Fully Released 257mm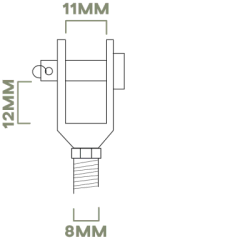 M8 TURNBUCKLE – SHORT
KSFX81SH
Recommended link allowance = 150mm
M.B.L = 13.9Kn
Measurements L
Fully Tensioned 122mm
Half Tensioned 140mm
Fully Released 165mm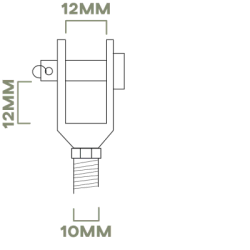 M10 TURNBUCKLE – STANDARD
KSFX01CB
Recommended link allowance = 260mm
M.B.L = 21.08Kn
Measurements L
Fully Tensioned 190mm
Half Tensioned 240mm
Fully Released 290mm

Single ended Turnbuckle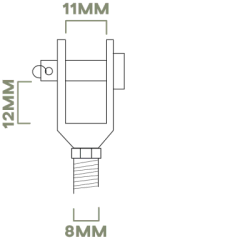 M8 TURNBUCKLE
KSFX8PBT
This turnbuckle is the strongest short tensioning fixing for smaller gaps between your Shade Sail and anchor point.
Recommended link allowance = 150mm
M.B.L = 13.9Kn
Measurements L
Fully Tensioned 122mm
Half Tensioned 144mm
Fully Released 157mm