Camden Market, Horse Hospital Terrace (2022)
Located in Camden Town; We were asked to design a contemporary covering that celebrates the history of the Grade II* listed market place in a playful manner whilst providing a functional terrace that facilitates the future tenant's operations with a retractable roof awning.
To develop the structure Shade Solutions are working in partnership with VPPR Architects and other consultant teams to deliver an Al Fresco dining area that can be used all year round. The project is part of the railway heritage trail and part of a redevelopment of Camden Town.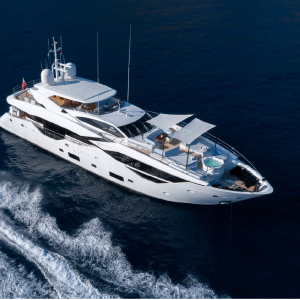 Sunseeker (ongoing)
For approximately 10 years Shade Solutions have been producing Shade Sails for the aft decks and sun decks of Sunseeker Yachts that are produced in Poole, Dorset.
Currently we produce Shade Sails for two models of yacht, the Sunseeker 116 and Sunseeker 155. These are made to a bespoke design agreed between Sunseeker and Kemp Sails Shade Solutions.

Dudley Market (2015)
In 2015 we were commissioned to design and manufacture a series of Shade Sails for market and stalls within.
These Shades consisted of several fabric facias for the perimeter of the market buildings and panels to separate the stalls within.
In total we produced 52 different designs, and 8 end panel designs to complete this project.

Grosvenor Park Theatre – Chester Performs (2012)

Grosvenor Park Outdoor Theatre was opened in 2010 and has an intimate auditorium for 320 people.
Shade Solutions were brought onside to design and produce a fabric roof, made of individual shade sail panels, to form the circular amphitheatre, providing the upper seating with shelter to 40% of the audience, making the space usable for most of the year.

Merchant Square – Paddington (2017)
The 700 sqm. floating park in Paddington Basin on the Grand Union Canal provides a striking green public space on the water with its own canal boat mooring. Developer, 'European Land and Property Limited' commissioned acclaimed garden designer Tony Woods of The Garden Club London to create the new park at the heart of Merchant Square, complementing the canal-side neighbourhood's award-winning public realm.
Shade Solutions were hired to create a series of Shade Sails for the centre of the park, these were manufactured as a series of squares and rectangles, the Shade Sails act as a contemporary pavilion space that can be used to host events.

The Boathouse – Christchurch
(2013 – ongoing)
Over the years we have been involved in numerous restaurant and bar projects. One of our frequent customers is The Boathouse in Christchurch.
We have designed shades for several projects here over the years for both inside and outside the restaurant, from triangular jib style shades inside used as area dividers to three striking shades over the jetty, a set to suit both shade and rain cover.
There is also a cosy area featuring a group of shades along the side of the building, enclosing sofas arranged around the 'ice bar'.
Finally 3 triangular shades (our first commission at the Boathouse) used as décor fixed to the side of the wall.