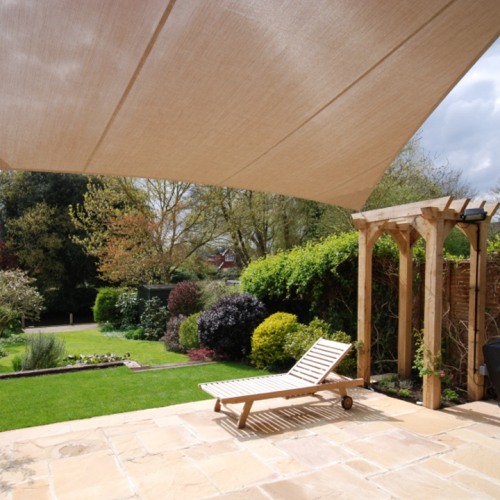 WeatherMAX 80
This is a highly breathable and waterproof fabric that is available in standard or fire resistant versions. It offers superior UV protection and good strength, with excellent water resistance whilst retaining its dimensional stability. It is a durable yet lightweight 271gsm fabric, with an anti-microbial component added to provide resistance to mildew. It also has a Hydromax finish that is resistant to dirt and staining.
This fabric is suitable for multiple applications from covers, awnings and tents, but must be set at a minimum of 20° to shed water.
*The FR version of WeatherMax (available on request) and the red colour variants attract a small uplift on the base price.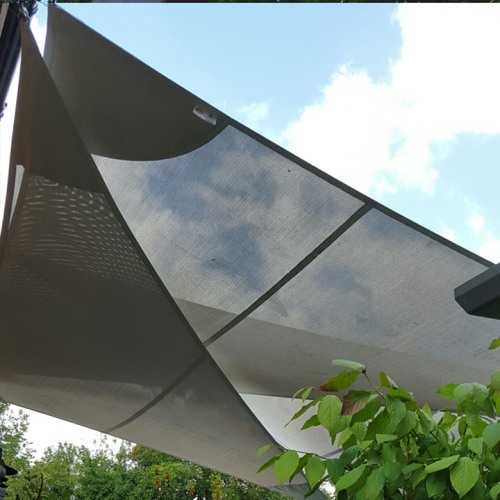 Ferrari Soltis Horizon 86
One of our most popular options is the mesh fabric, which has uniquely engineered shape stability and excellent fire resistance making it suitable for both indoors or out.
At 380gsm this FR fabric offers UV protection, blocking up to 93% of heat, whilst still allowing up to 28% natural light through. It can be set at any angle since it will not pool rainwater. If the shade is set at a shallow angle, water will naturally run towards the lower edge before passing through, offering protection from a light shower.
The fantastic light-filtering properties and practicality alongside a huge colour range make it a great choice for indoor and outdoor shades, awnings and pergola canopies.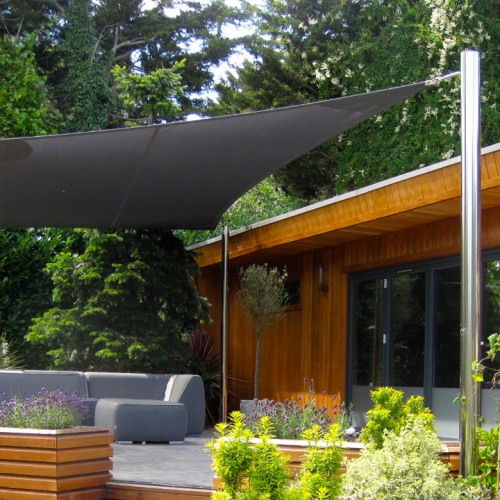 Ferrari Soltis Perform 92
This is a heavier upgrade from Soltis 86, offering the same technology and benefits, with fewer perforations giving it a less transparent 'look' and slightly better shower resistance.
Due to its heavier nature (410gsm) we do recommend the fabric being set at a 20° angle to allow for water run-off.
Providing a little more privacy than Soltis 86 with fewer perforations, it also blocks 97% of the heat
Like the Soltis 86 and Pré-contraint 502 PVC, it comes in a huge range of colours which are also colour matched between ranges.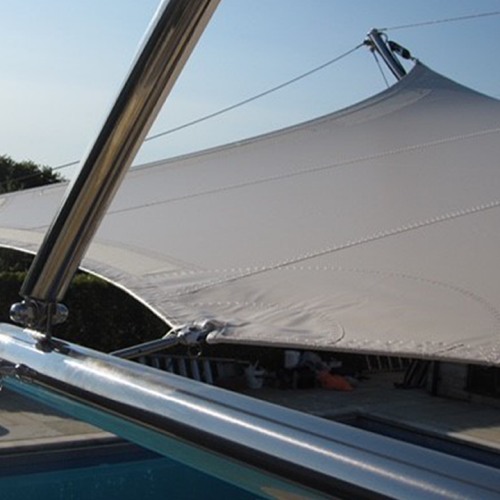 Ferrari Pré-contraint 502 PVC
This is a premium pre-stretched FR rated PVC, designed for high dimensional stability, meaning stretch or sag is greatly reduced over time – therefore is a far superior option to standard PVC.
It has very high UV resistance, offering 100% UVB resistance, is reliably colourfast and is completely waterproof. The finish is a sleek modern satin, which is much more aesthetically pleasing than the conventional PVC, whilst also being lighter at 570gsm.
This fabric must be set at a minimum of 20° to shed water. Due to the fabric's premium features, it carries a price increase over those that are more conventional.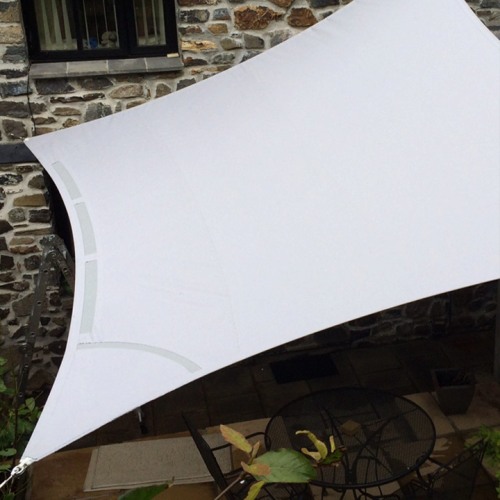 PVC
We offer matt flame retardant (FR) version PVC with 6 available colours. It is suitable for applications where a waterproof barrier is paramount, for example covers, awnings and marquees.
The fabric is highly durable, and due to its smooth finish, extremely easy to clean.
This fabric is heavier than others available on the market at 610gsm, and it must be set at a minimum of 20° to shed water.